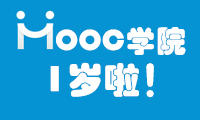 A year ago, MOOCs were still relatively unknown in China. On Coursera, Chinese users made up a small fraction of the overall learner population, and our platform didn't host a single Chinese-language course.
What a difference a year makes.
Over the past year, the number of Chinese learners on Coursera has quadrupled, and thanks to our wonderful partners in greater China — and to a volunteer-powered Chinese translation community — we now host nearly 60 courses taught natively in Chinese or accompanied by Chinese subtitles.
While MOOCs have taken off in China for a number of reasons, Guokr.com's MOOC Academy — which celebrated its one-year anniversary last week — has undoubtedly played a big role.
MOOC Academy is a hub for Chinese MOOC enthusiasts, offering translated course description information, Chinese-language forums, and special content ranging from instructor interviews to MOOC studying tips. MOOC Academy began as a simple discussion thread on Guokr.com; a year later, it's now a thriving community of over half a million Chinese MOOC enthusiasts.
Happy anniversary, MOOC Academy!
Visit MOOC Academy, or browse all Chinese-language courses on Coursera.